I have worked with several people now, who have purchased a premium package from WordPress.com and have not received what they were expecting.  Hopefully, I can shed some light on the differences between WordPress.com vs WordPress.org.
WordPress.com
WordPress.com premium packages provide pretty much everything you need for a simple website.  You can purchase a domain name, hosting, and use the WordPress platform all for one price per year.  If you are interested in a simple do-it yourself solution this may be the appropriate route for you.  There are three different plans for WordPress.com including Free, Premium ($99 per year) and Business ($299 per year) .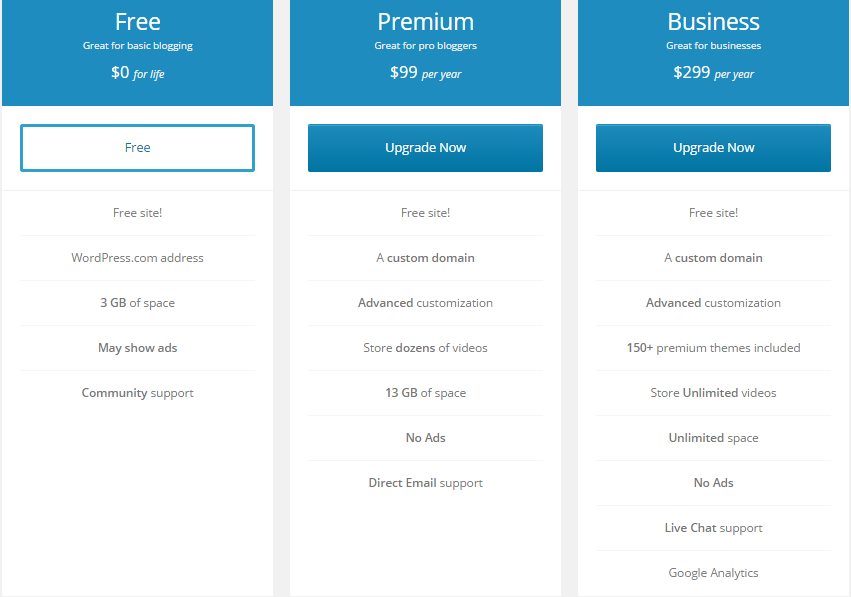 Here are a few things that you should be aware of when considering purchasing a WordPress.com package.
You have a limited selecting of themes
You do have many choices, but you do not have complete freedom.
LIMITED PLUGINS
One of the awesome features of the WordPress platform is the ability to add plugins to increase functionality.  The WordPress.com packages only come with a few built in plugins.
Limited Customization
You are simply limited to the amount of customization that can be made to your site.
WordPress.org
WordPress.org is the same WordPress platform, but here is the kicker… IT'S TOTALLY FREE.  There are costs involved, but the costs are not for WordPress.  You can customize WordPress as much as you want, you have access to both free and paid themes, and you can add plugins to add other functionality to your site.
So what are the costs of WordPress.org?
Hosting
WordPress.org is self hosted.  This simply means that rather than paying WordPress.com to store you files, you can pay someone else (which can often time cost you less and give you more functionality).
Domain Name
There is a yearly cost to register your domain name (ex: www.mydomain-name.com).  This is usually less than $15 per year.  Rather than paying WordPress.com for this you can pay it yourself and possibly save some money.
My Recommendation – WordPress.org
I have found that for most people WordPress.org is the better way to go.  For the average website it usually cost a little bit less than the Premium WordPress.com package and that is for both individuals and basic business websites.  With WordPress.org your website has more capabilities and the ability to grow as you business grows.  You can add many more features and customization, for a lower cost than a WordPress.com package.  Hopefully you found this information about WordPress.com vs WordPress.org useful.